CAPABILITIES
__________________________________________________________________________________________
A Custom Job Shop 21,000 sq. ft. floor space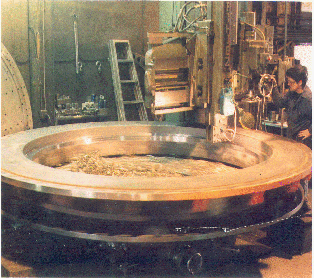 Established in 1951, we are equipped for and specialized in, medium to
heavy machining and fabrication to our customer's drawings and
specifications in prototype, production and repair work. Three of our
bays are equipped with five ton over head cranes, while the main bay
crane can handle ten tons.

Machine Tools

Horizontal Boring Mills, Vertical Boring Mills,
Vertical Milling Machines, Drill Presses, Lathes,
Vertical Presses, Horizontal Press, Welding
Equipment, Handling Facilities, Inspection Dept.
---
Horizontal Boring Mills
Toshiba 4" spindle, 5 axis CNC, 55" x 63" rotary table, X-79" by Y-59" travel
Shibaura 5" spindle, 49" x 99" table, X-100" by 70" travel ( equipped with Anilam Commando 3000, CNC point to point )
Shibaura 4" spindle, 55" x 63" rotary table, X-70" by Y-57" travel ( equipped with Anilam Commando 3000, CNC point to point )
Varnsdorf 4" spindle, 49" sq. rotary table, X-64" by Y-46" travel ( equipped with digital readout )
Shibaura 3" spindle, 36" x 41" rotary table, X-40" by Y-40" travel ( equipped with digital readout )
Vertical Milling Machines
Chevalier CNC Vertical Machining Center 20" x 40" x 24" with Dynapath Controls
( 2 ) Bridgeport Universals ( equipped with digital readout )
Vertical Boring Mills
Berthiez 150" dia. capacity, single column 65" maximum height ( equipped with digital readout )
Cincinnati Hy-Pro 84" dia. capacity, 72" maximum vertical height, dual ram ( equipped with digital readout )
Berthiez 40" dia. capacity, Vertical Turret Lathe ( equipped with digital readout )
Lathes
Heyligenstaedt 56" x 29.5 Ft. Long
Monarch Series 90 44" dia. x 41' centers
Axelson 25" x 15' centers
Lodge Shipley ( 40" gap ) 25" x 8' centers
American 20" x 12' centers
Wafum 20" x 10' centers
Axelson 16" x 12' centers
Okuma Tracer Lathe 15" x 6' centers
Okuma Lathe 16" x 5' centers
Drill Presses
G.S.P. 72" radial drill press
( 4 ) misc. pedistals
Welding Equipment
Miller Dynasty 700 600 amp GTAW/SMAW/ welding machine
( 2 ) Miller CP-300 300 amp GMAW welding machines
Miller CO-250 sm 250 amp GMAW welding machine
Miller Syncrowave 500 amp AC/DC GTAW, SMAW welding machine
Miller Syncrowave 300 amp AC/DC GTAW, SMAW welding machine
Lincoln 600 amp DC generator
Vertical Presses
( 1 ) 4" ram 50 ton 36" x 12" table, 24" vertical travel
( 2 ) misc. arbor presses
Horizontal Press
( 1 ) 9" ram 150 ton 48" maximum height, by 6' length capacity horizontal press
Inspection Department
All equipment required to inspect the output of the shop
All measuring instruments calibrated to MIL-I-45662
CMM-FARO Gold Arm - 10 ft. sphere envelope with computerized printout inspection report capability
Handling Facilities
10 ton overhead crane
( 3 ) 5 ton overhead cranes
6000# forklift